The Best Social Media Management Tool: Buffer vs. Later
4 January 2022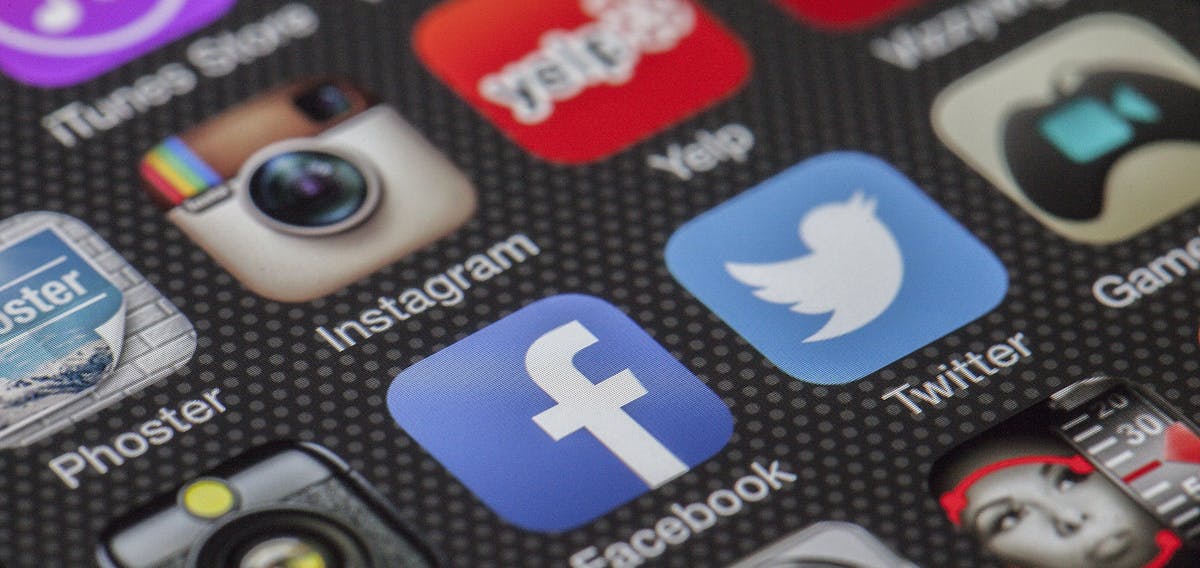 Social media has taken over the world. Nowadays, you barely come across anyone who isn't posing for Instagram, scrolling through TikTok, or keeping up with far-away relatives on Facebook.
As of 2021, over 4.48 billion people use social media worldwide. That's 56.8% of the world's population!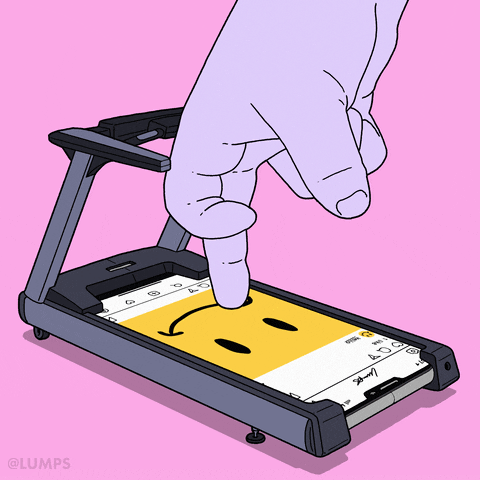 When the era of digital marketing began to rapidly replace traditional newspapers and pamphlets, marketers jumped at the opportunities and worked double-time to master each social media platform as it came along.

The problem was that the platforms were like islands—disconnected from each other, making it hard to jump quickly between them. Not only that, but many platforms wouldn't allow you to schedule posts in advance within their native apps.
Manage all your posts in the same place.
So web developers came up with the life-changing idea of creating software applications for web and mobile designed to network social-media accounts, so you could manage all your posts in the same place.
With a quick search of the net, you can find fantastic management accounts such as Buffer, Hootsuite, Later, Zoho, Sprout Social, and more. How do you choose the right one with so many options?
Let's compare two worthy contenders for best social-media management software: Buffer vs. Later.
Buffer

We'll start with a quick tour.
Buffer is like a clean, well-designed house that makes you feel as if every room, hallway, and corner were designed with you in mind.
With its clear instructions and simple layout, Buffer has mastered the art of "less is more." Its open-concept design displays the important information right where you need it.
Now, the details: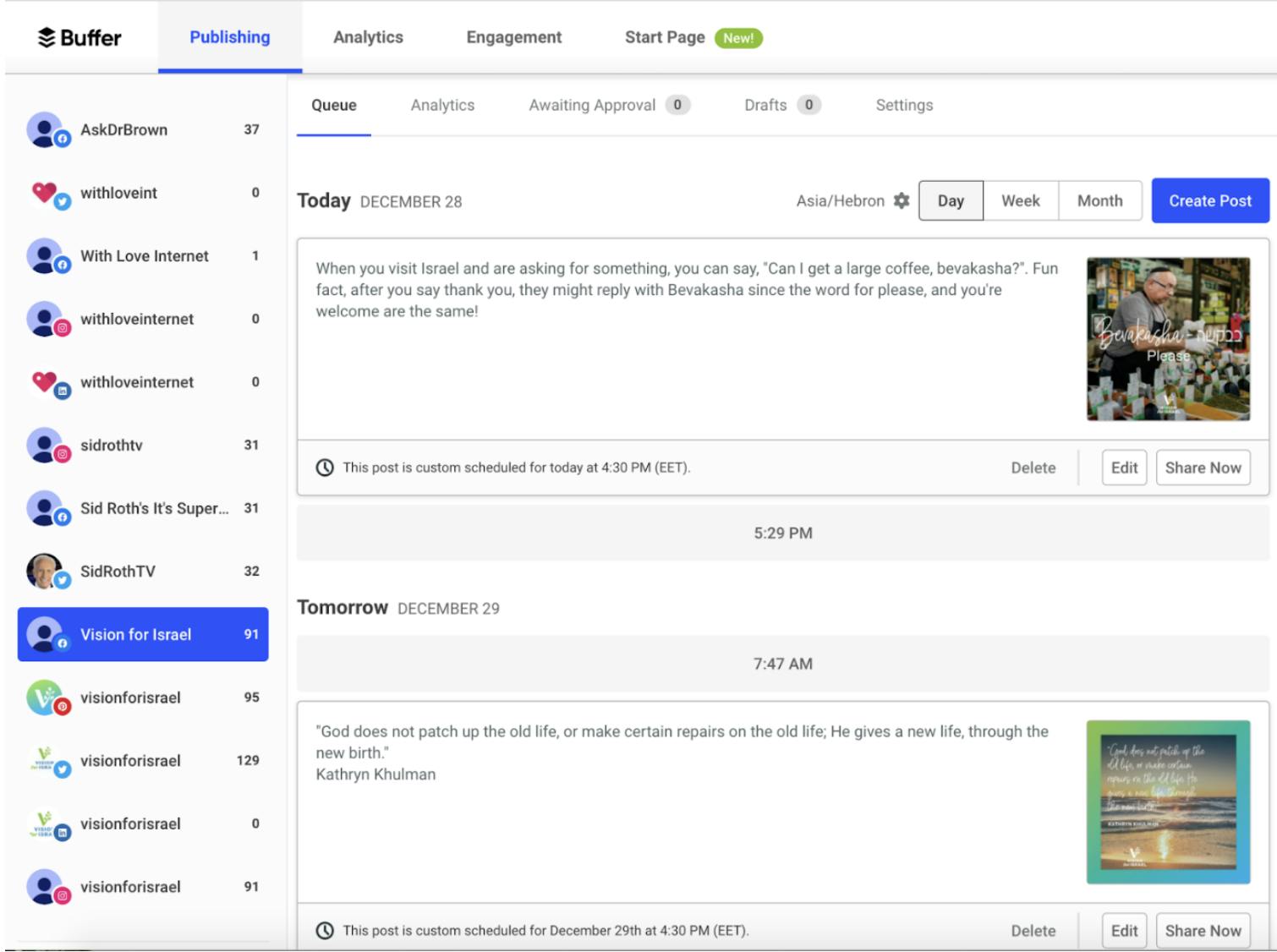 Buffer offers an organic, step-by-step method for posting:
Drafts >> Awaiting Approval >> Queue
It's as simple as selecting a profile and which platforms you would like to post on, uploading your asset, changing some details to fit each platform, scheduling a time, and uploading.
You can then choose the most optimal scheduling time for each platform and wait for approval.
You can then choose the most optimal scheduling time for each platform and wait for approval.
Once it's in the queue, you can always go back and edit, and even drag the post up or down the timeline to a different day.
If you find it more soothing to the eye to see all your posts on a calendar (rather than a timeline), simply click the "Calendar" option to drag posts around, hop between clients, and schedule campaigns.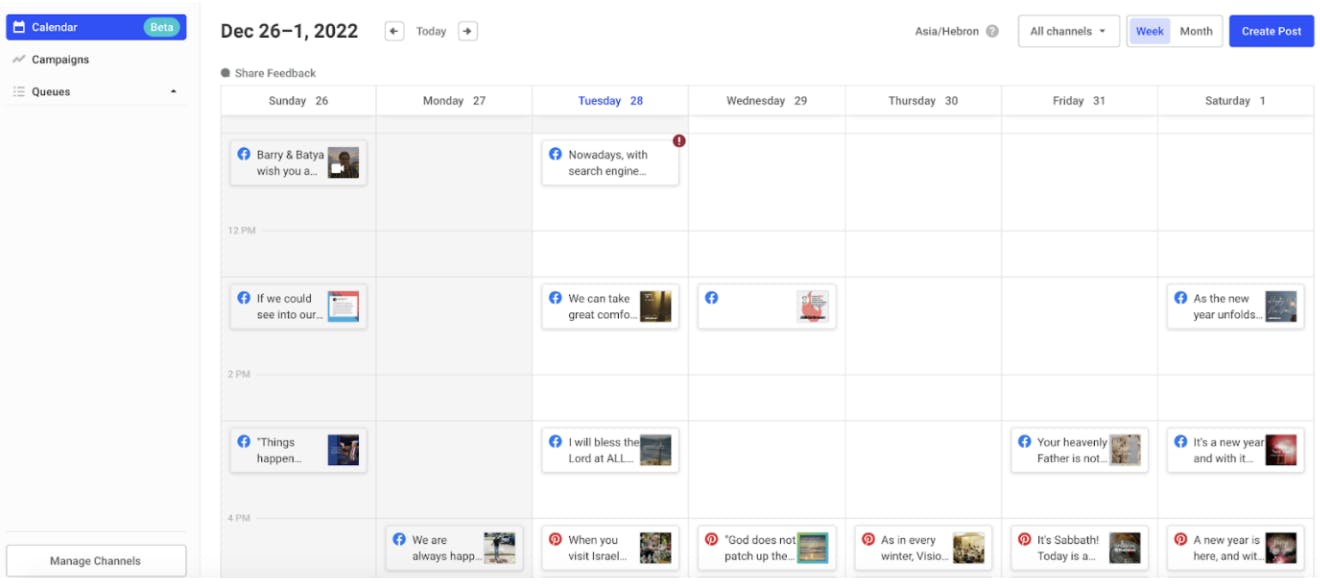 Buffer's analytics are easy to understand, and it's simple to create reports and see your audience engagement. Customize dates to get a more accurate understanding and see which posts are doing better than others.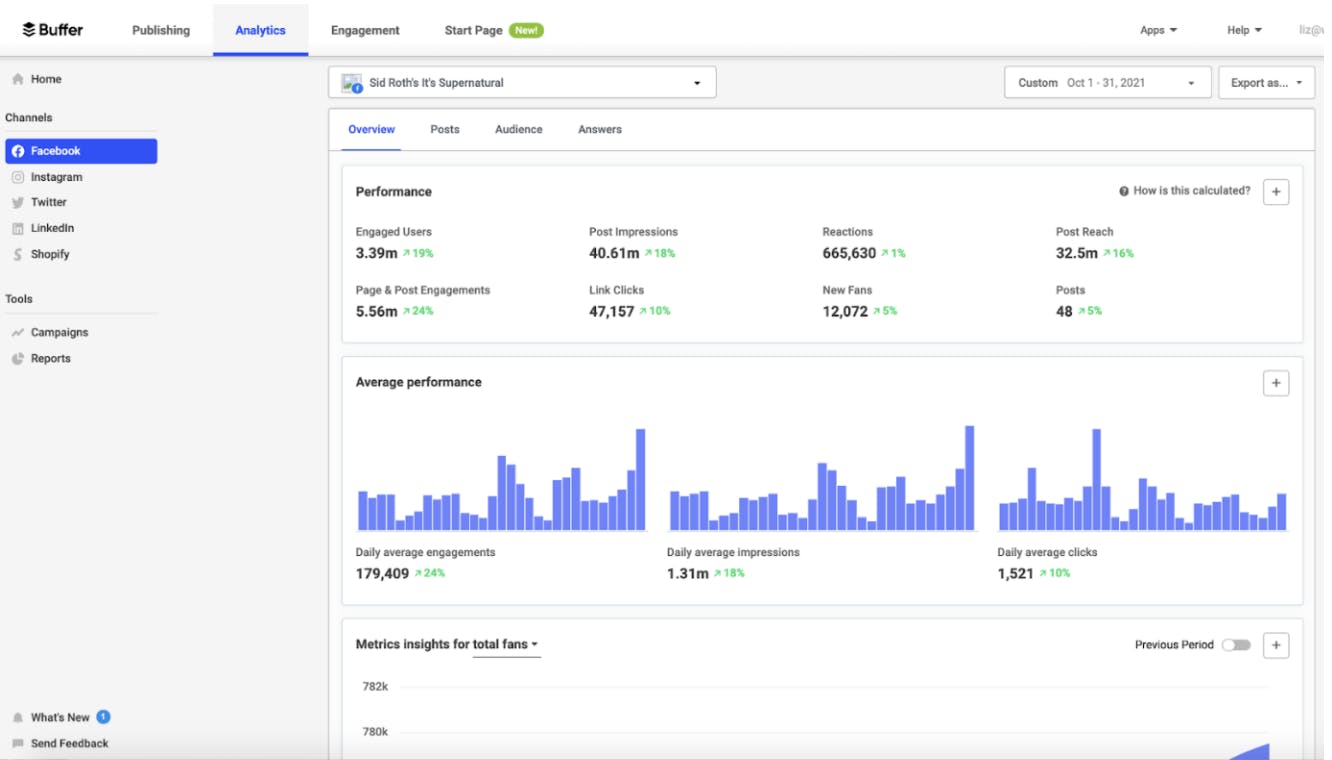 You can also reply to your audience's comments in the "Engagement" tab and manage products you are selling in your shop grid: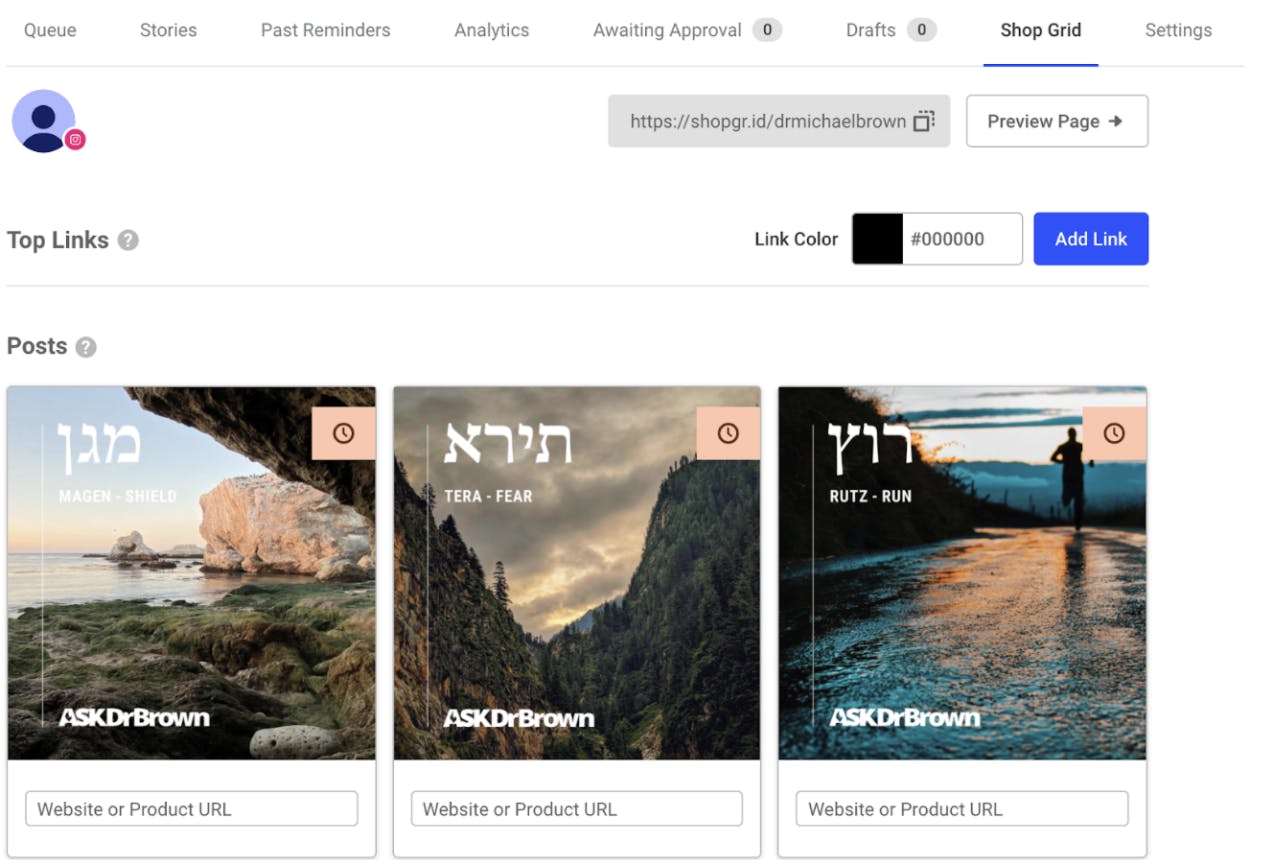 Are there any problems with Buffer?
Sometimes the analytics are not the most accurate when compared to the ones directly inside Facebook or Instagram. And there is no ability to compare one full month's analytics to a prior full month's analytics, since Buffer only allows comparisons between the exact same number of previous days. There is also no integration with Google Analytics, and separating your sales information from Buffer's analytics makes it more difficult to create monthly reports.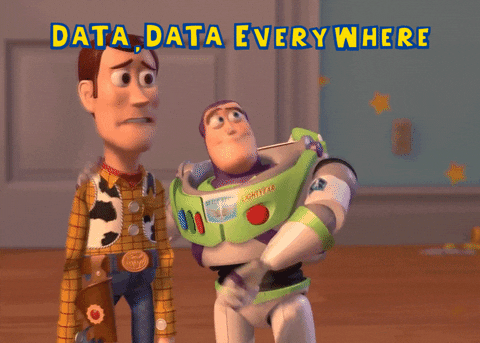 In addition, there is no way to add more users or channels without jumping a full tier from your "essentials" pack (at a monthly cost of $5 per social channel, with unlimited posts and social channels) to the "team" pack (at $10 per month per social channel, with unlimited team members and clients) (prices as of 2021).
To their benefit, whenever we have run into a technical problem, customer support has been quick to answer and work with us to resolve the situation.
Later
Come on in! Welcome to Later.
It's a quirky and eclectic house for out-of-the-box thinkers. But it's not all nick-nacks and bells and whistles. The detailed features Later offers make it like a custom-made, dream garage. You can find every tool for every need without having to, later on, re-edit the post on the actual platform's website.
What's great about Later's calendar is that it allows you to see all your platforms on the same calendar.
Everything revolves around your calendar. What's great about Later's calendar is that it allows you to see all your platforms on the same calendar. If you think it might be confusing, don't worry—they're color-coded to make it easy to differentiate between them. That way, posts are never accidentally uploaded to the wrong platform. Oops!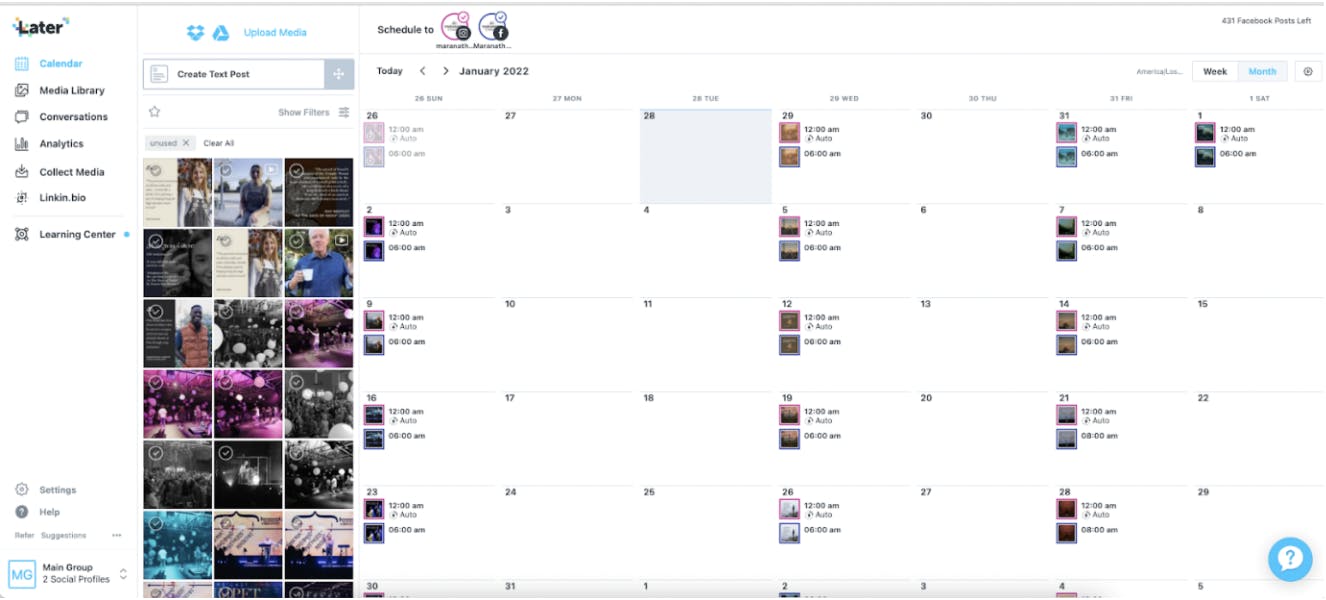 To upload your assets, head over to the Media library. We find the library easy to use, since you can choose to upload from your computer, Google Drive, or Dropbox.
Search for your images or videos, and even filter them to see only what you want to work with at the time. You can filter them according to the type of asset or whether it has been published or scheduled, or is in the waiting room.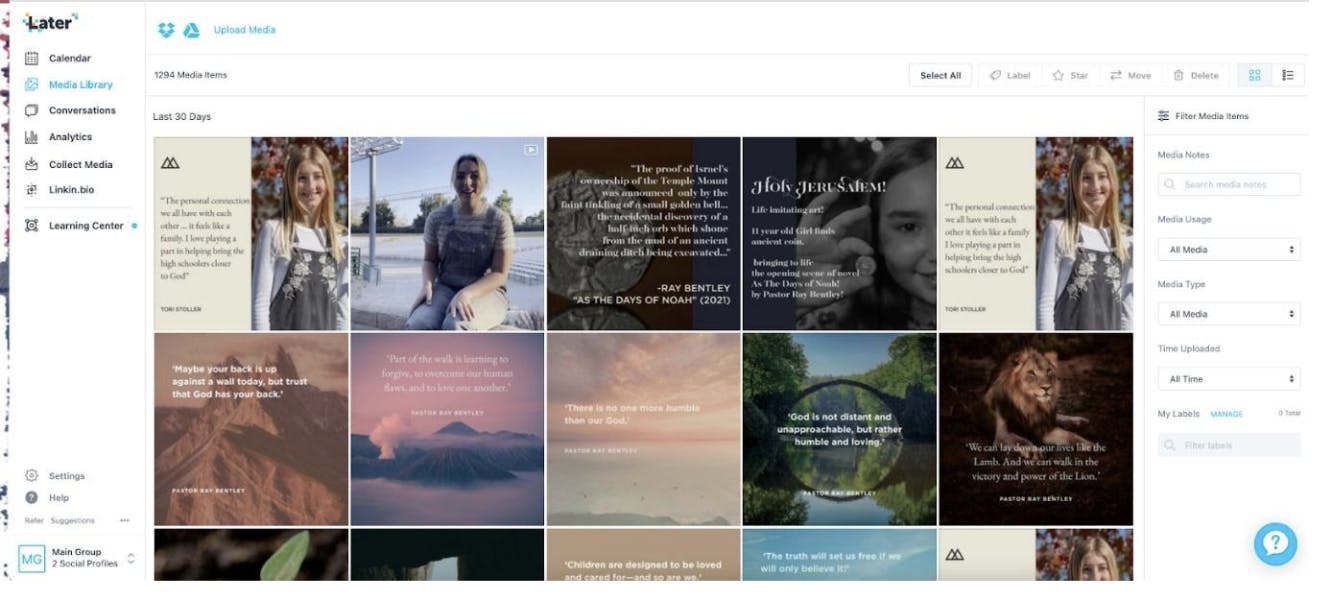 You can then drag your asset to the calendar and edit your post.
Later gives you the option to edit your asset like you would on Facebook or Instagram. We've found the editing tools, such as image enhancers, filters, and cropping, to be a boon for those simple, on-the-go changes you want to make.
You can also easily add links, tag people, or add a location.
What we LOVE about Later is its innovative #hashtag suggestions
What we LOVE about Later is its innovative #hashtag suggestions. Type in a word and receive accurate info on whether that hashtag is performing at a high or medium level, and see the percentages of its engagement. No more heading to Instagram for your hashtag research! You also have the option of adding your pre-researched hashtags with a click of the mouse.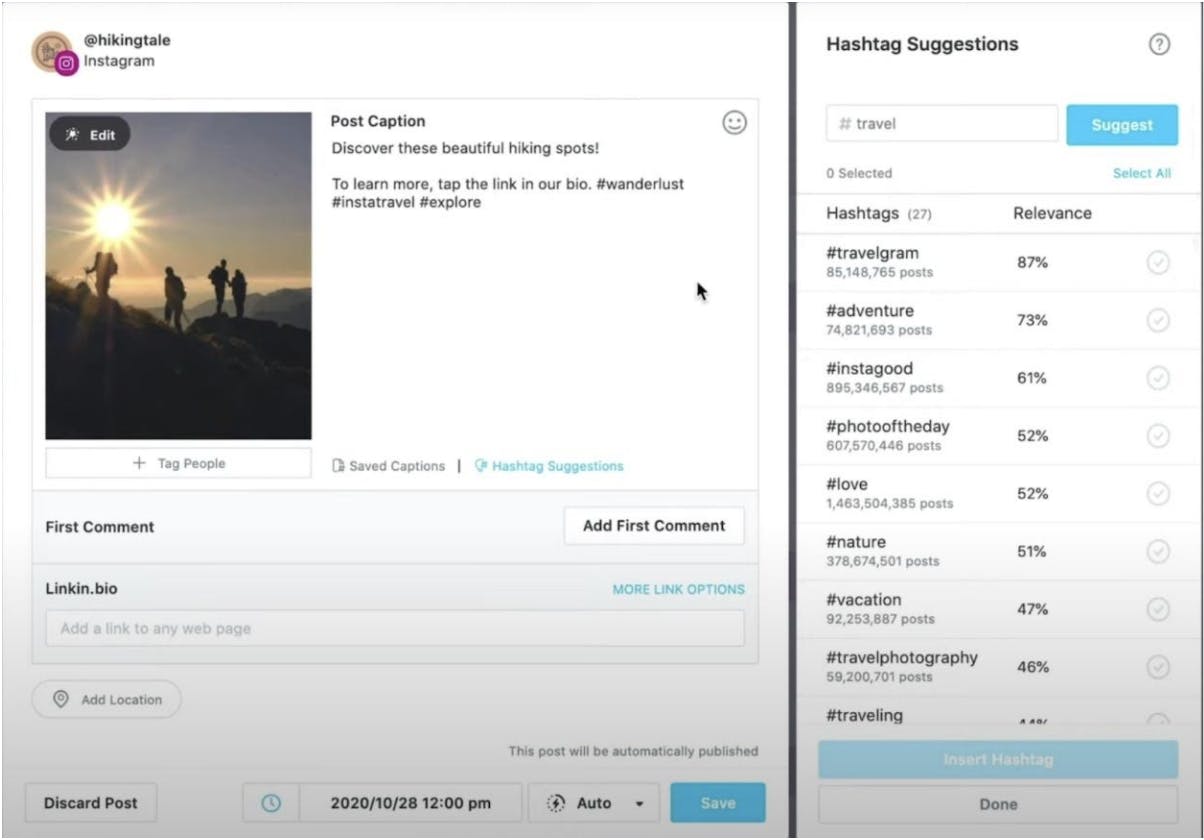 Another cool feature is that you can preview your posts on your computer instead of your smartphone, saving you a step in the process and a potential design headache.
Later's Instagram-focused analytics is where it differs from the rest. Although it does not give the option to see analytics for Facebook or Twitter, it does allow you to see details of your audience's engagement, your most successful posts, and your Story performance.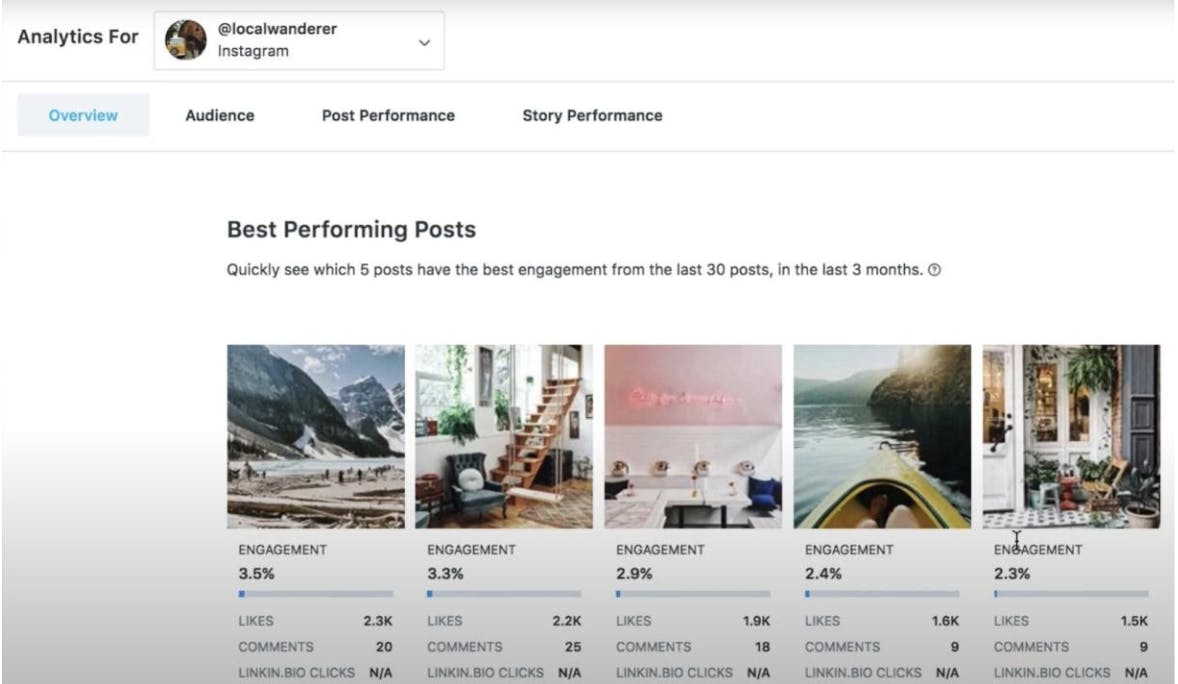 You can preview your posts on your computer instead of your smartphone.
Whether or not that is a downside depends on your needs. Many people focus mainly on  Instagram. They find analytics on other platforms to be nice information, but not hugely useful, since most of their audience is Instagram-based.
Later is a bit pricier than Buffer, with its basic package starting at $8 per month, including one social set (ex. one Facebook, one Instagram, etc.), 30 posts per month, and one user. The packages then climb to $15 per month, for 60 posts per social profile, and to $25 per month for 150 posts and three users (as of 2021).
Instagram Stories and TikTok videos come with mobile posting-reminders and are not automatically posted for you.
Furthermore, on the free version, you cannot post multiple photos within a post, making carousels an impossibility.
Conclusion

To recap . . .
Buffer's pros:
Simple layout and design
Easy posting method
Clear and organized analytics
Relatively low cost
Buffer's cons:
Analytic bugs create inaccuracy
Limited analytical searchability
Limited package-purchase options
Can't integrate Google Analytics into reports
Limited to ten channels on Analyze
Buffer has broad advantages because of its stretch over different platforms and the easy use of its features, but not so much when it comes to analytical accuracy.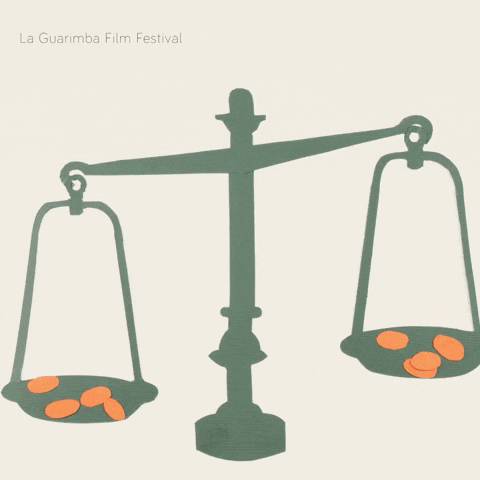 Later's pros:
Unique editing tools
Hashtag suggestions
In-built library
Multiple-profile calendar visibility
More package-purchase options
Later's cons:
Instagram analytics only
Limited automatic posting
Limited photos per post (on free version)
More costly than average
Later seems to specialize in making posting on Instagram easy and has unique features. On the downside, it's more costly and limited when it comes to analytics.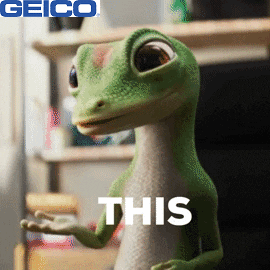 If you are wondering which one to choose, we can say, as an experienced digital-marketing company, go with what suits your needs the most. At the end of the day, it's all about efficiency, saving time and effort, and making sure you get the most bang for your buck.
Still, need help deciding? Want more options?
We are here to help.
Contact us for a free consultation, and we will find the right solution for you.